Being a
regular Bali traveller
(I'm in double figures these days) it might surprise you that it wasn't until my most recent trip that I stayed in the Ubud highlands. Having flown from Australia with Malindo Air, I landed feeling super fresh (thanks to that generous leg-room on the plane) along with a suitcase crammed with all my cute vacay outfits (yes luggage allowance was also included with my ticket) ready to explore! Known for it's clean eating, wellness retreats, endless rice fields & hippie vibes, there is plenty to add to your itinerary when visiting this part of Bali. Thanks to the team at
Malindo Air
, who know what's what, we visited all the best spots. So here's my top six things to do in Ubud that you'll absolutely love…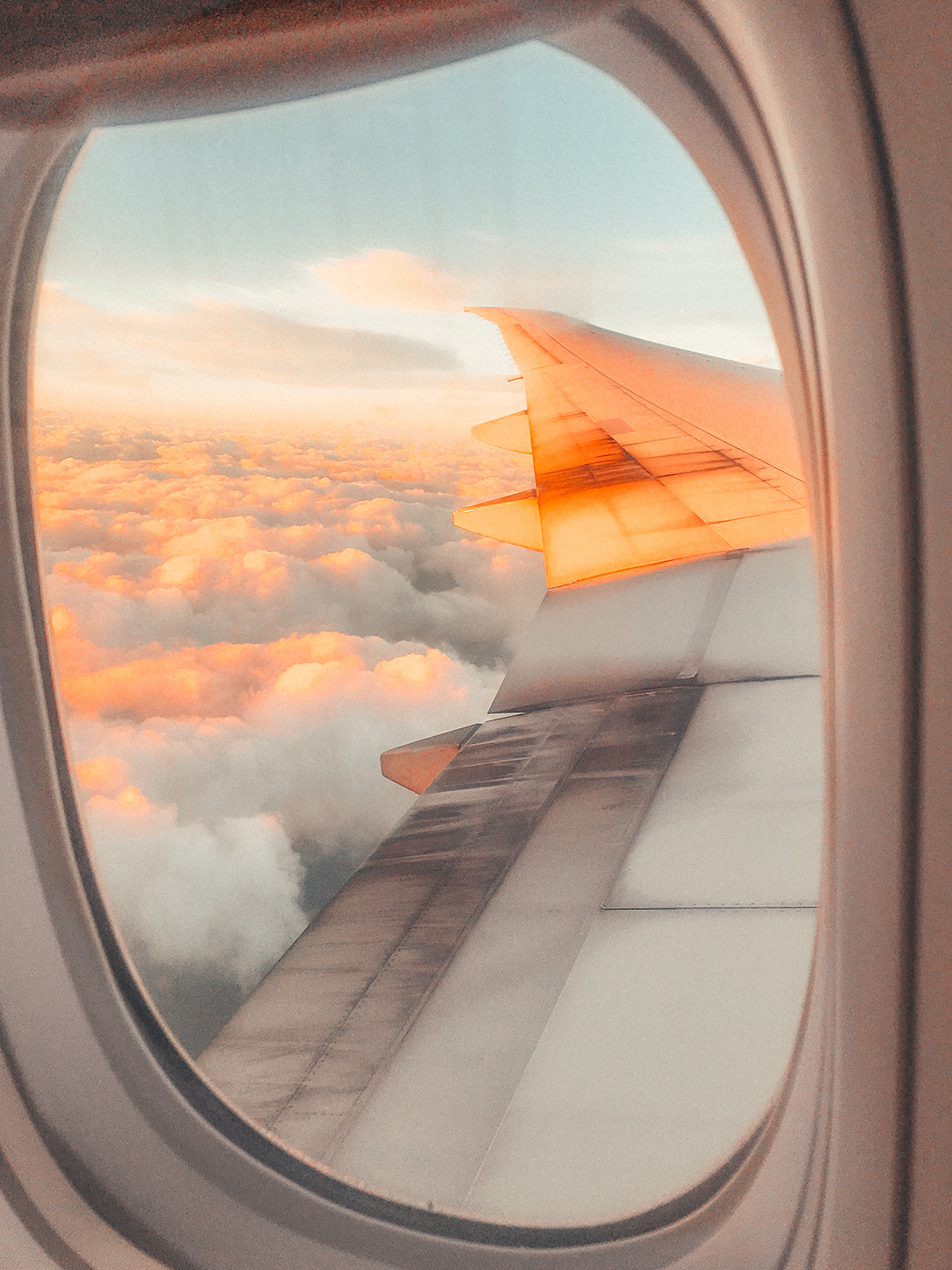 1. Enjoy a Vegan Cooking Class
If you're looking to experience authentic, homemade Balinese food, then why not learn how to cook it yourself? And obviously taste test the results at the end. If this sounds up your alley then you must book in to the Tresna Bali Cooking School run by the loveliest, friendliest husband & wife duo who know a thing or two about cooking. I am by no means a master chef in the kitchen normally, but I absolutely adored this class. The experience was full of love, laughter & soulful, delicious food. We picked fresh vegetables, herbs & spices straight from the garden, learnt all about the native plants used in Balinese dishes & brushed up on our chopping skills. Mine are now elite FYI. Plus, after all the hard work was done we enjoyed the fruits of our labour over a bottle of wine & some good old fashioned conversation. My favourite dish? The satay salad, YUM!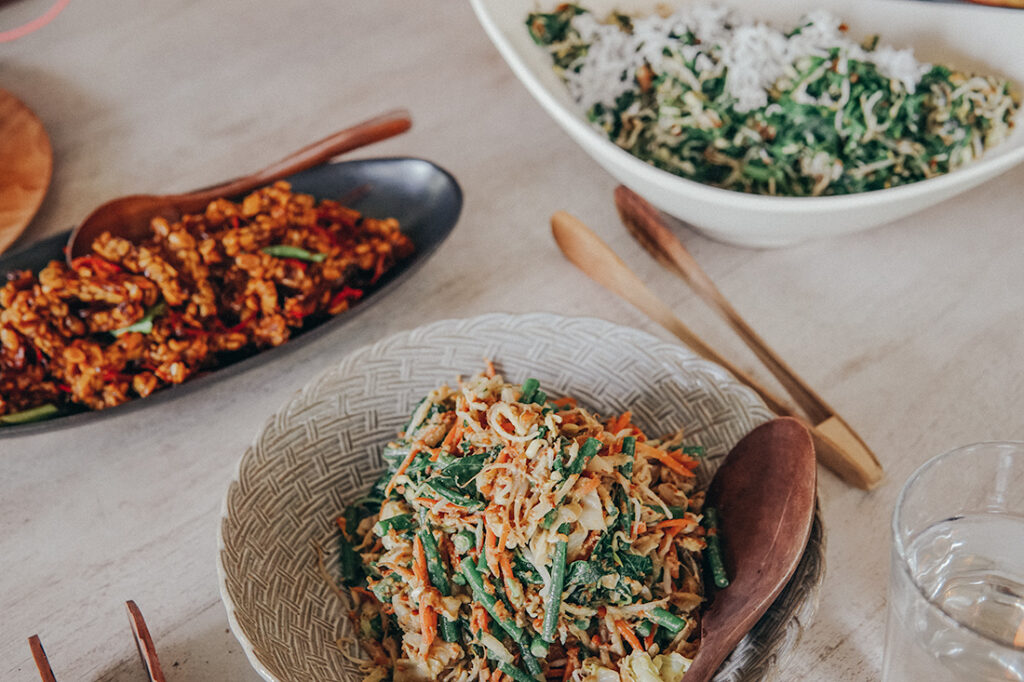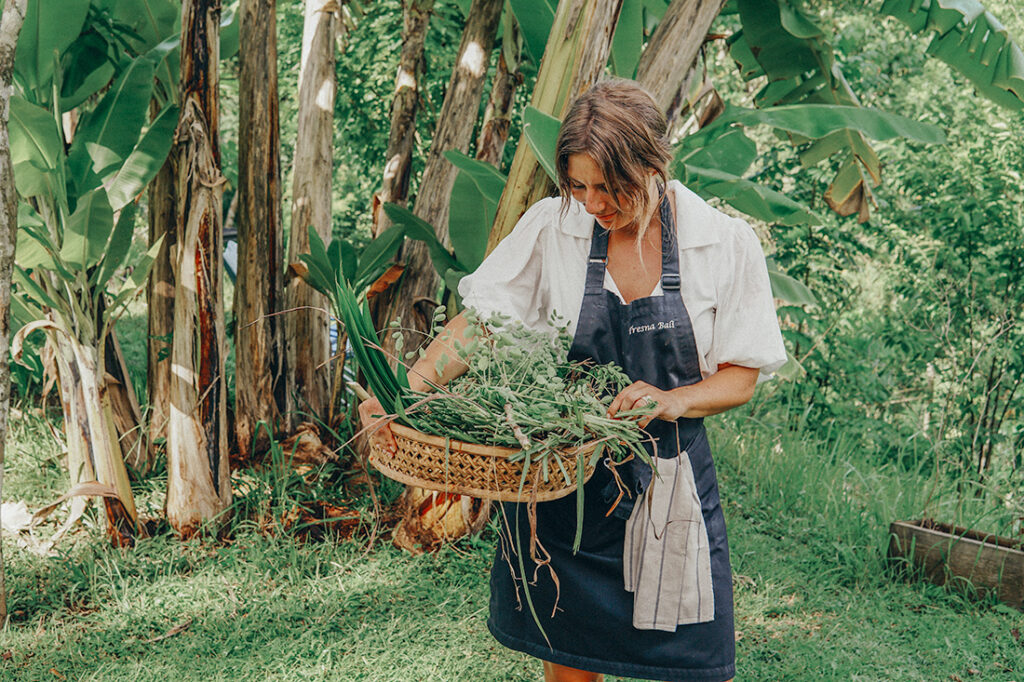 2. Visit a Waterfall
Feeling up for a bit of a hiking adventure? Then make your way through the jungle on foot to the Leke Leke Waterfall located in the north of Ubud. I have never seen a waterfall quite so spectacular in my life! Honestly, photos don't do that massive drop justice. This spot was the perfect place to sit back, relax, go for a refreshing swim and just enjoy what mother nature has to offer. It was a bit of a hike to get there (get ready for all the stairs) so I would recommend wearing your best walking shoes. But trust me, the instagram shots are totally worth it.
3. Go Bike Riding Through the Rice Fields
No trip to Ubud is complete without a trip to the iconic rice paddies that are dotted throughout the region. Whilst I have walked through the fields before, this was the first time I experienced them by bike, & I LOVED it. The hills were a tad challenging in the humidity, but the views were absolutely worth it. I picked the cutest vintage bike & basket combo (obvs) for my ride across the Jatiluwih Rice Terraces. The sights are breathtaking & you can spend hours riding around & stopping off for a necessary Bintang or coconut – whatever you fancy to quench your thirst!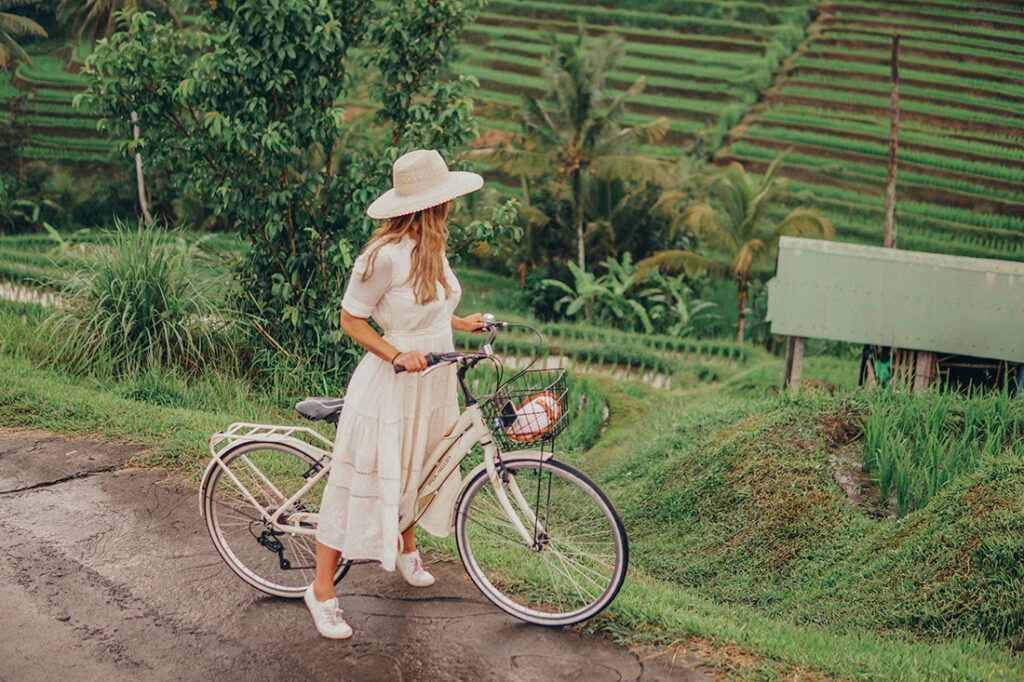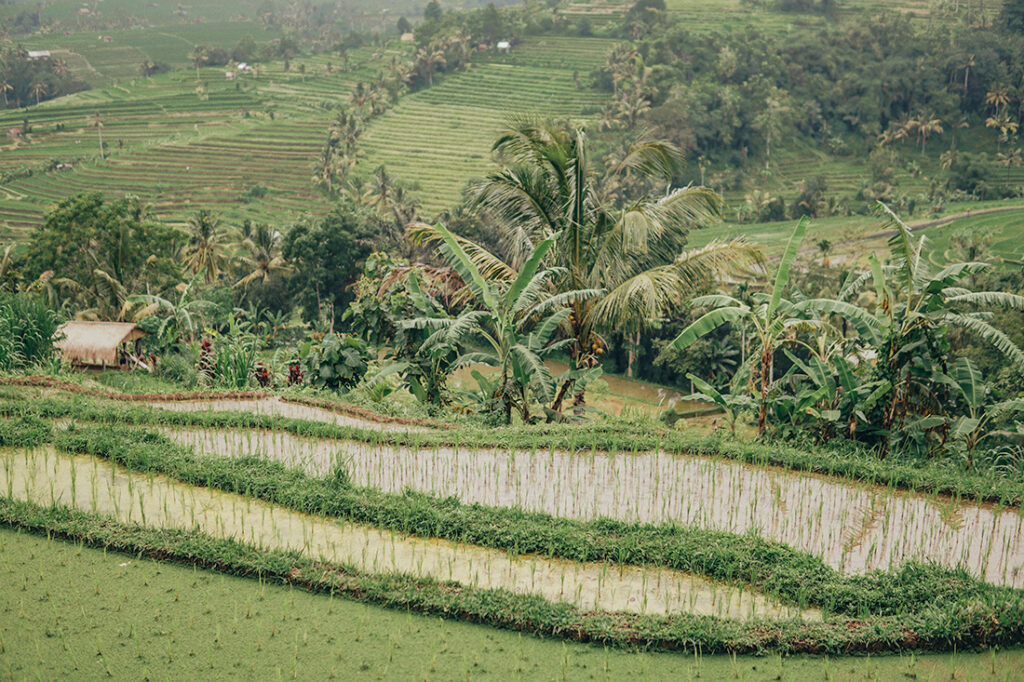 4. Book into Sunrise Yoga
It might be a bit of challenge waking up at 6am on your holiday but I can assure you it's well worth it. As the sky glows with pastel hues, book yourself into an outdoor yoga class that overlooks the endless rice fields. In Bali, yogis of all experience levels are welcome (trust me, I still can't touch my toes) so don't be intimidated by that. Not to worry, if yoga isn't your jam then Ubud has plenty of alternative wellness experiences you can try. I would highly recommend trying the ancient sound healing at Pyramids Of Chi. Unsure what I am ranting about? Ok, I hear you, so let me explain. Basically, you take off your shoes, enter a huge semi dark pyramid, select a mattress & get comfortable. For the next hour you lose yourself in the ethereal sounds reverberating off the walls. It was one of the most indescribable things I have ever experienced & definitely something worth trying at least once in your lifetime. Trust me. If this is your first foray into yoga then you may love it so much that you'll bring that feeling back home with you! That wash of relaxation can be recreated so when life brings you down you'll be able to calm yourself through yoga. You can also look at adding in something like edibles and other cannabis products from services such as Organic CBD Nugs, for example, so you can heighten that experience.

5. Rent an Eco-Friendly Bamboo Villa
Keen to experience barefoot luxury in a completely sustainable villa built amongst the Ubud jungle? Then a stay at Green Village is for you. Each villa is hand-built from bamboo with copper finishings & an open air layout so you are blissfuly exposed to the natural surroundings. With outdoor bathrooms, your own private pool & picturesque unwavering views of the jungle around you, it's a completely immersive experience in your lavish bamboo tree house. It may also be nice to invest in some bamboo boxers to match the whole vibe of the place. You may want to read this post on trvst to find out more about this.

6. Indulge in a Floating Breakfast
It wouldn't be a trip to Ubud unless you experience a beautiful floating breakfast in the pool like we did whilst staying at Bisma Cottages. There is nothing quite like cooling off whilst drinking your morning juice & a enjoying a bowl of tropical fruits on the side. My only advice is to enter the water carefully & stay at the shallow end. It's also one of the most instagrammable moments you'll ever come across (guilty as charged)!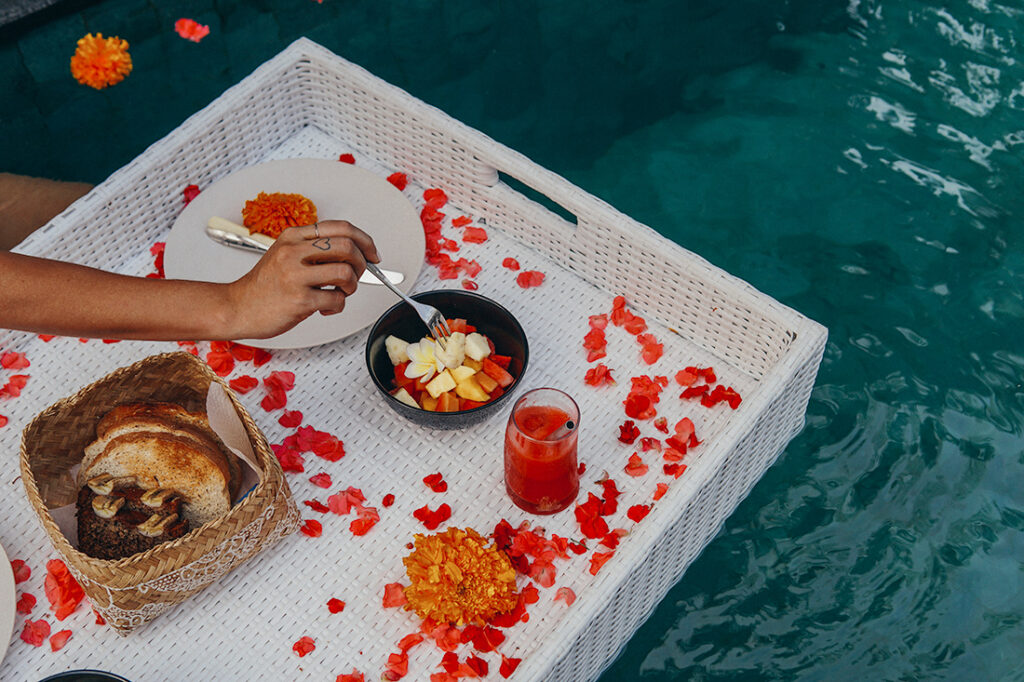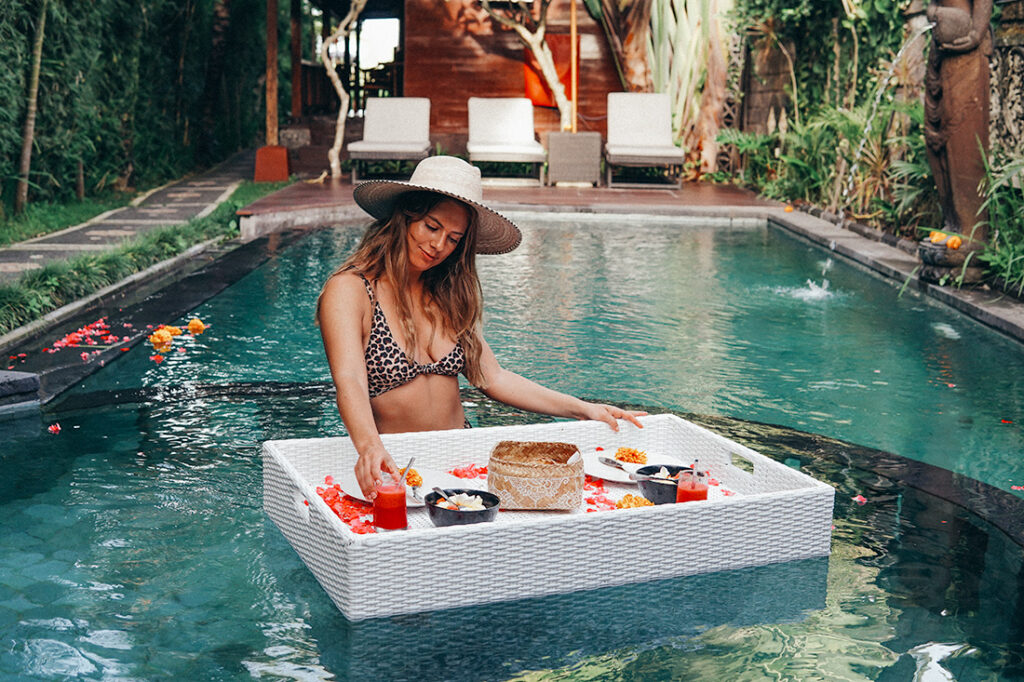 Planning a trip to Bali? You are in luck as Malindo Air have some incredible deals to get you there. Their fares currently start at

$439 return

from Melbourne to Denpasar. If you're anything like me you'll love any airline that offers premium extras without the premium price. So yes, both you AND your bags will arrive at your destination without any of those annoying hidden costs that surprise you at checkout.
Thanks again to

Malindo Air

as well as our accommodation partners

Bisma Cottages

&

Hotel Nikko Benoa Beach

who hosted us on this incredible visit to Bali