Only a few kilometres off the coast of Perth, Western Australia lies a car-free, clear-watered paradise known as Rottnest Island (or Rotto as the locals like to call it). You would have seen some idyllic images from this spectacular haven pop up on your Instagram feed from time to time & so naturally it has been on my bucket list for quite some time. Last month I was lucky enough to visit Rotto for the first time, along with my travel sidekick Tully Smyth from Young Blood Runs Wild. And it did not disappoint. If it's not on your to-do list yet, then pencil it in stat & here's how you go about it…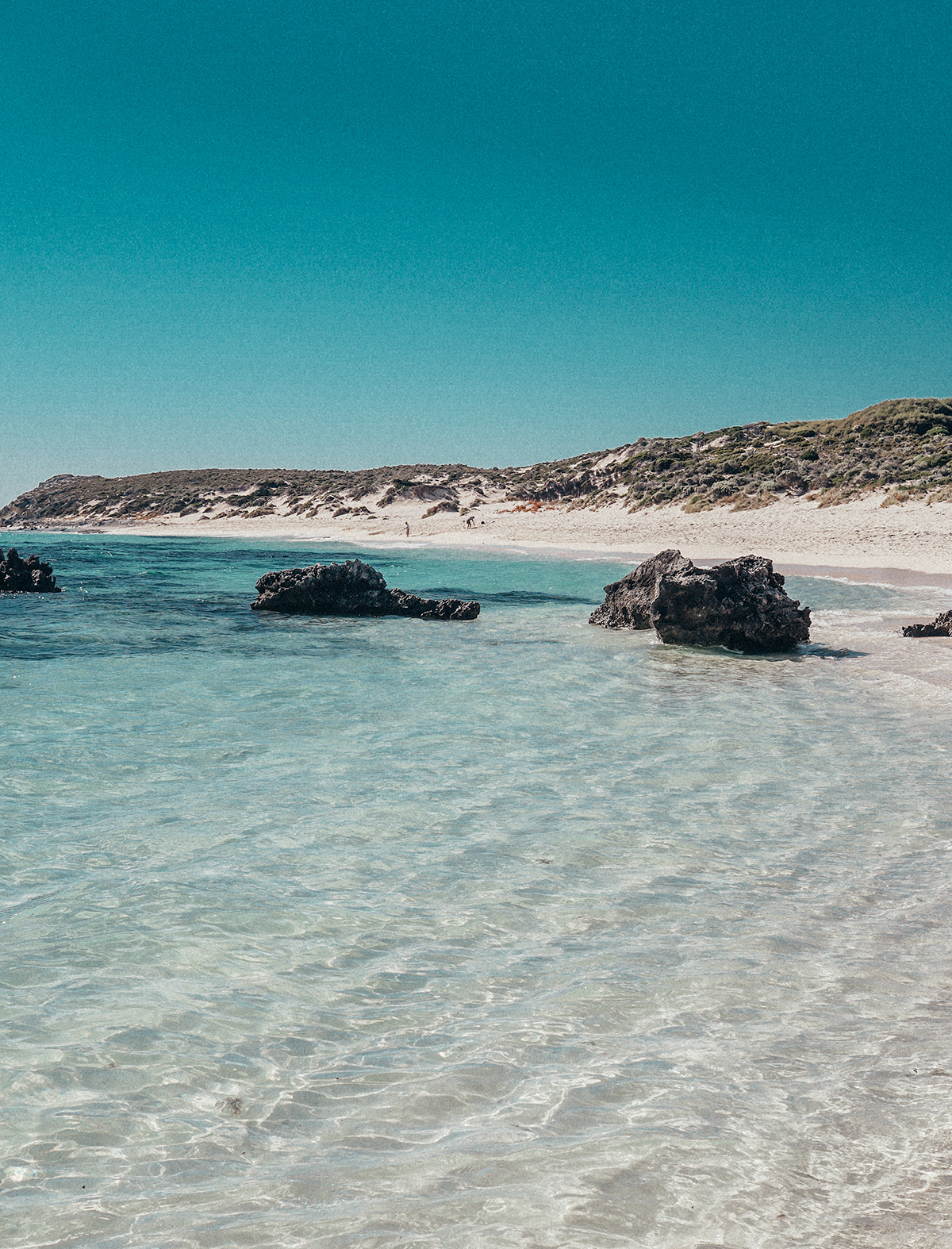 Chopper over to Rottnest Island from Perth
A boujee move, but one you absolutely won't regret. Seeing Rottnest Island from above is a postcard picture. The shades of blue & turquoise are just breathtaking. We also found it super handy to scope out our favourite coves & beaches so we knew exactly where we wanted to go when we got there. Our helicopter pilot was also a wealth of knowledge so we got a great little history lesson at the same time. If flying isn't your thing then you can also jump on a ninety minute ferry to Rotto from Perth. Easy!
Hire a Bicycle To Explore
As a tourist, cycling is my favourite form of transport. You can see everything, stop whenever you want & burn off all of those extra holiday rosés at the same time. Definitely a win-win situation. Be sure to load up on water & snacks before you leave the town as once you start exploring the island there are no shops along the way. Again, if biking (or tackling a few mean hills) isn't your fave pastime then there is a hop-on-hop-off bus. Also be sure to rent a pair of snorkels when you grab your bikes!
Snorkel at Little Salmon Bay
My favourite beach on the entire island. The colour of the water is breathtakingly clear & the coral reef here makes it an excellent place to go snorkelling. It has the most beautiful, secluded feel to it. We went during the week so we had the beach all to ourselves which was absolute bliss. That's the beauty of Rottnest Island, sometimes it feels like you're on your own private island.
Get a Quokka Selfie
Cycle up to the Wadjempup Lighthouse as this is quokka territory. Once you've recovered from conquering the huge hill (it's a leg burner on the bike) then keep your eyes peeled for a quokka. What's a quokka I hear you stammer? Basically, a quokka is a mini-kangaroo-like marsupial found only on Rottnest Island that is famous for taking the CUTEST pics. They are super calm & aren't at all afraid of humans, so getting a photo is actually a lot easier than you might expect. It has even been dubbed the world's happiest animal! You can feed them too, but only from the natural habitat, think leaves and shrubbery (no man-made goods!)
Grab Lunch In Town
After riding past the pink lakes back to town, we grabbed a well-earned seafood platter at Thomson's along the foreshore at the iconic Thomson's Bay. Here you can watch the passenger ferries and luxury private boats sail by. You'll also likely run into a few more Quokkas whilst eating outside but remember to keep your food to yourself!

Spend The Rest of Your Day On A Secluded Beach
Pass the rest of your day on a secluded beach of your choice. Snorkel, swim, sunbake and/or sleep in your own private oasis. We cycled across to the other side of the island & found ourselves a stunning little cove where we cliff-jumped into the crystal clear waters. This is the point where you wish you never had to leave Rotto!
Acknowledge the Aboriginal Heritage on Rottnest Island
When British settlers first arrived in Western Australia, land in the area became a contested resource which led to confrontation & imprisonment of aboriginals. An indigenous prison on Rottnest Island was established & continued operating for almost a century. It became a forced labour camp for prisoners & resulted in many indigenous deaths. Today, the island holds special significant for the Aboriginal community. Projects are currently underway to appropriately recognise the old prison and burial grands and determine a future use for them in consultation with the indigenous community. Read more about the steep aboriginal history on Rotto here.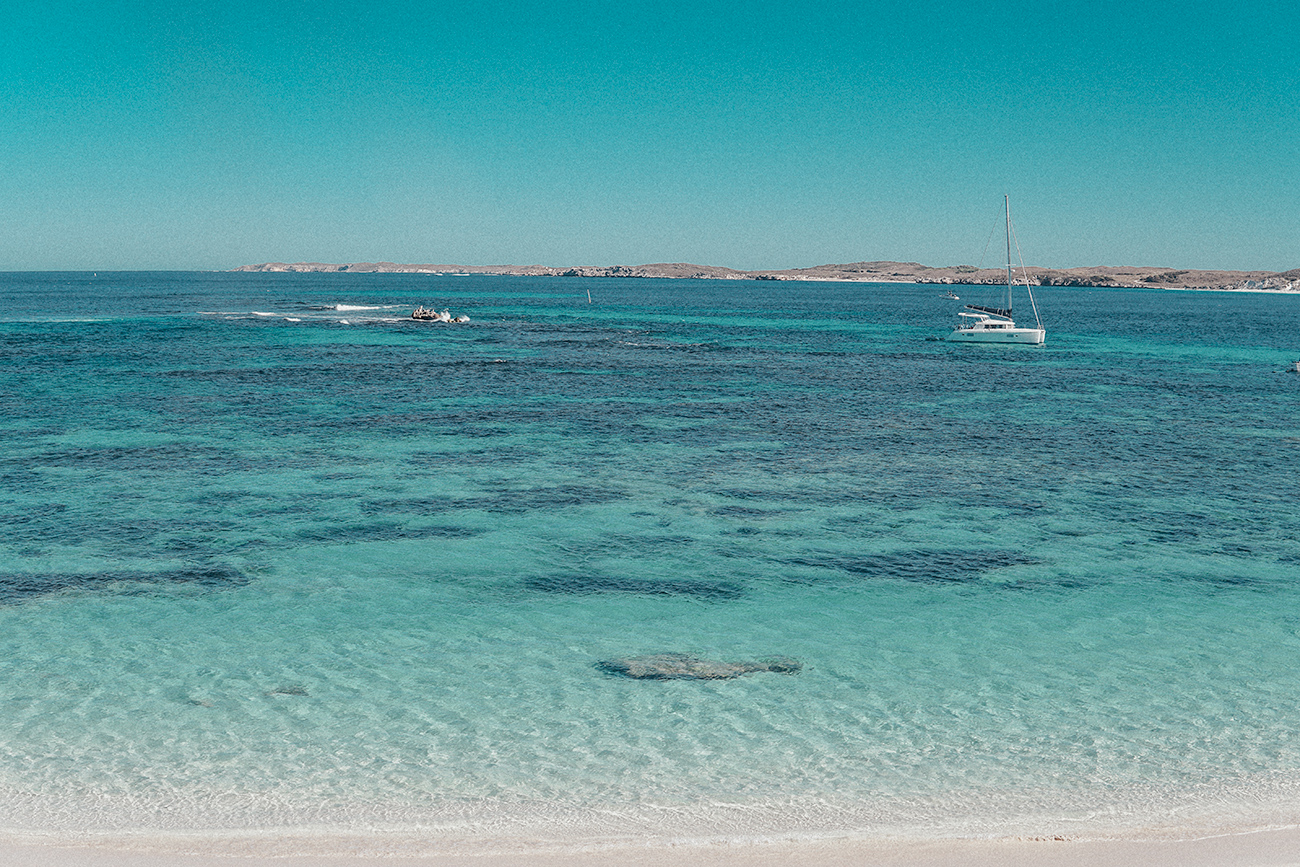 So there you have it, a day in Rottnest Island & what you need to tick of your list whilst there. You can stay overnight at one of the hotels located on the island or catch a quick thirty minute ferry back to Fremantle (which we did). At this stage, I am already planning when we can go back! Thanks again to Tourism Western Australia for hosting us.
Shop The Post: